A Warm Welsh Welcome to Aberdaron
There's plenty to do in Summer at Aberdaron, with miles of sandy beaches to explore and enjoy the sun. Sea kayaking is an excellent way to explore the coastline and visit secret coves or to use as a base for fishing or diving. Why not take a trip to Bardsey Island and discover the Isle of 20,000 saints and the ruins of St Mary's Abbey, see the seals and sea birds (sea crossing is dependent on good weather). Dolphins are also seen in the seas around the Llŷn Peninsula. With many Regattas during the summer months, check out the Aberdaron Sailing Club for more information. >>> more
News
04.05.21 Late availability - Bryndol, Rhiw
The cottage is available from the 18th to the 25th of June.
View details of Bryndol, Rhiw here
---
29.06.20 Covid-19

Thank you all for staying away during the Lockdown. Aberdaron has been a very different place without you. Now that the restrictions are being slowly lifted, we hope that we can start to welcome you back towards the middle/end of July. Different businesses will be opening at different times so we would advise you to contact the businesses that you intend to use directly. There will be restrictions in place of course but we will be making every effort to welcome you back in a safe way.
---
24.03.2020 Aberdaron Tourism Link is Discouraging Visitors
As a result of the recent developments with Coronavirus the Aberdaron Tourism Link is discouraging visitors from visiting the area at this time. Hopefully the measures in place will allow us to tackle this national crisis, allowing us to welcome visitors to the area again in the near future.
---


Events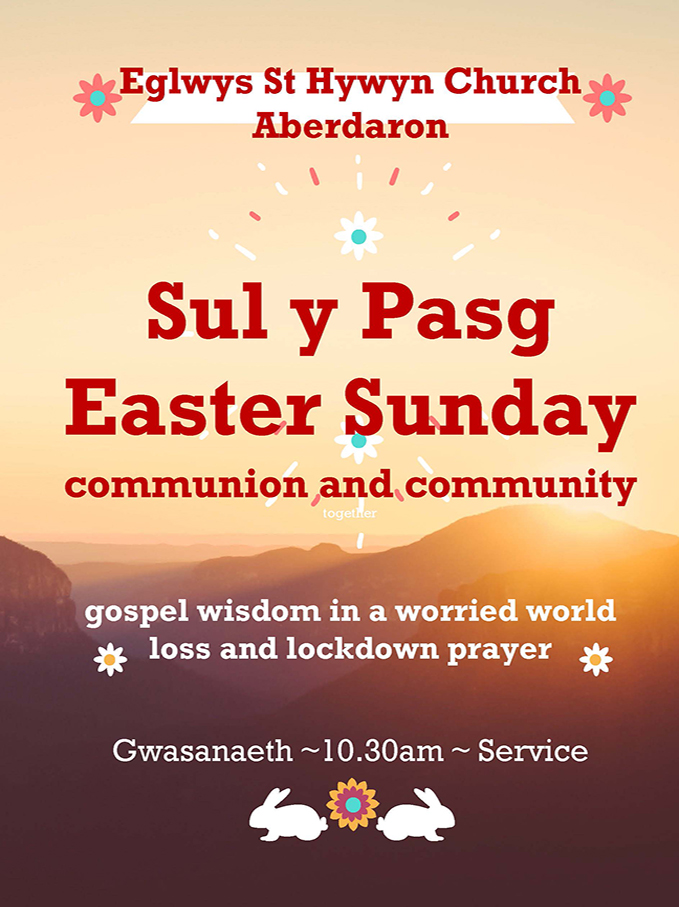 Easter Sunday
Communion and community. Gospel wisdom in a worried world loss and lockdown prayer.

10:30am Service