Newyddion
16.12.19 Cyfarchion Y Nadolig
I weld digwyddiadau - cliciwch yma
---
09.11.19 The Divine Names of God (Saesneg yn unig)
I weld digwyddiadau - cliciwch yma
---
27.10.19 Dychwelyd y cerrig gweddi i'r mor
I weld digwyddiadau - cliciwch yma
---
23.10.19 Finding God in the Faith of Others
I weld digwyddiadau - cliciwch yma
---
10.06.19 The RS Thomas & ME Eldridge Poetry & Art Festival, Aberdaron is now in its 6th year (Saesneg yn unig)
This year, the former Archbishop of Wales and Archbishop of Canterbury Rev. Dr Rowan Williams will be delivering a talk at 10.30am, Saturday 22nd June in Aberdaron School. . Menna Elfyn the poet will be leading a creative writing workshop on Friday 21st June as well as reading her poetry on Friday and Saturday evenings. Cor Meibion Carnguwch, will be performing in St Hywyn's church on the Saturday evening with Menna Elfyn. On Sunday morning the former Bishop of Bangor and Archbishop of Wales Rev. Dr Barry Morgan will be preaching in St Hywyn's church at 10am.
Am fwy o wybodaeth- cliciwch yma
---
06.07.18 Erthygl am Aberdaron yng nghylchgrawn Coastal Life
Mae taith gerdded eiconig yn ardal Aberdaron yn un o deithiau cylchgrawn Welsh Coast Life mis yma.
---

19.03.18 Pasg ym Mhorth y Swnt
I weld digwyddiadau - cliciwch yma
---
19.03.18 St Hywyn's Church

Saesneg yn unig ar gael...
Sunday 25th March 10 am Palm Sunday Service www.st-hywyn.org


Holy Week & Easter services - click here for more information
Thursday 29th March 6pm Torri y Bara / Breaking the Bread – Free Supper of Soup, Bread & Cheese for All to Enjoy

Friday 30th March 6pm Dydd Gwener y Groglith / Good Friday "Aros wrth y Groes / Waiting at the Cross"

Saturday 31st 10.30 am Making an Easter Garden for all the family to enjoy - click here for more information

Saturday 31st March 7.30 pm Llanfaelrhys Church Porth Ysgo – Triumph to Tragedy - click here for more information

Sunday 1st April 10am Bilingual Easter Sunday Service www.st-hywyn.org

Saturday 2nd June 10am – 4pm "Walking in the Foosteps of RS Thomas" Sarn Plas, Rhiw to Aberdaron along the coastal path, limited to 10 people. Details: susanafogarty@gmail.com 01758 703039

Thursday 28th June – Sunday 1st July RS Thomas & ME Eldrdige Poetry & Art Festival at various venues over the weekend. www.rsthomaspoetry.co.uk - click here for more information

Saturday 30th June 8pm Cor Meibion Carnguwch Concert St Hywyn's Church - click here for more information

Sunday 8th July 7.30pm "NINEBARROW" - Radio 2 Acclaimed folk duo back by popular demand www.ninebarrow.co.uk

Wednesday 8th August 7.30pm "THE HARVESTERS & SOMERVILLE GENTLEMEN" two folk bands join together for a great evening of folk music. www.harvestersmusic.com www.somervillegentlemen.co.uk

Thursday 6th September 6pm Service of Welcome for Janet Fletcher as Associate Priest to Bro Enlli coming to live in Aberdaron.

Saturday 8th September 10.30am Annual St Hywyn's & Bro Enlli Pilgrim Walk

Sunday 28th October 10am Annual Service - Returning the Prayer Stones to the Sea.
---
07.03.18 Sul y Mamau - Gwesty Tŷ Newydd
Dewch a'ch Mam i Westy Ty Newydd Dydd Sul yma i ddathlu Sul y Mamau - bydd carfari ar gael 12y.h. tan 2.30y.h. Ffoniwch nawr i archebu bwrdd - 01758760207
www.gwesty-tynewydd.co.uk
---
11.08.16 Sacred Land Conference at Manaros (Saesneg yn unig)
The Sacred Land Conference is being held at Manaros, Aberdaron from Friday the 7th to Sunday the 9th of October 2016. Find out more about the enchanted landscape of Pen Llyn and how it is guided and connected to the life of the Earth's great story. We have 3 fantastic speakers – Martin Palmer (BBC broadcaster and author), Mary Colwell (film producer in nature and the environment) and Dafydd Hughes-Davies from the Felin Uchaf centre at Rhoshirwaun.
Residential and day bookings available. Call us on 01758 760 652 for more information.
---
25.05.16 Bws Arfordir Llŷn
Bydd Bws Arfordir Llŷn yn rhedeg tan ddiwedd Hydref 2016
Cliciwch yma am fwy o wybodaeth
---

23.05.16 Aberdaron: Technoleg ddiweddaraf ar lan y Llŷn
Dewiswyd Aberdaron gan Arloesi Gwynedd Wledig i dreialu sut i ddod â mynediad Wi-Fi cyhoeddus i gymunedau anghysbell a gwledig.
Cliciwch yma i ddarllen y datganiad i'r wasg
---
29.07.15 Ras
Nos Fercher Gorffennaf 29ain 7pm (cofrestru i redeg o 6:30pm)

Noson goffi i ddilyn yn y neuadd am 7:30pm.

Pris cystadlu £3 i blant a £7 i oedolion

Ni chodir tal mynediad i'r noson goffi. Paned a chacen ar gael am £1.
Unrhyw elw i Urdd Aberdaron a Rhiw.
---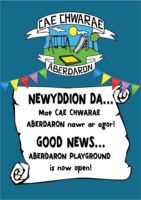 28.07.15 Cae Chwarae Aberdaron
Newyddion Da ... Mae Cae Chwarae Aberdaron nawr ar agor!
---
29.05.15 Defibrillator i'r pentref
Mae Criw Bro Daron wedi bod yn gweithio yn galed i gasglu pres i gael defibrillator i'r pentref. Gyda help grant y British Heart Foundaition mae defibrillator at ddefnydd y cyhoedd rwan yn ei le ar wal tu allan i'r toiledau ym maes parcio Henfaes. Gall y defibrillator sydd ar gael 24 awr y dydd helpu achub bywyd rhywun mewn argyfwng felly mae'n newyddion gwych fod gennym y teclyn yn y pentref.
---

09.04.15 Mae'r palod wedi cyrraedd!
Mae'r palod wedi cyrraedd Ynysoedd Gwylan yn Aberdaron ddoe, tua 50 o adar, yn gynharach na llynedd! Ymfudodd yr adar ddiwedd Awst ac maent wedi bod yn Môr yr Iwerydd drwy'r gaeaf, yr adar bach rhyfeddol.